Giant Bear Rampage! – a Kaiju Bear Simulator İndir Yükle
Bu Oyun Hakkında
Become a Giant Bear on a Rampage!
After falling into Toxic Waste, a normal bear mutates into a Giant Angry Monster Bear…
You must Destroy everything in your sight as Giant Monsters tend to do. The only problem is that humans will defend themselves with Guns, Landmines, Rockets and Lasers!

Destroy buildings to cause Property Damage to unlock the next levels, all while surviving waves of enemies and overcoming obstacles like boulders and shield generators. Explore the levels to find Mutation Points which can be spent on unlocking super powers and super attacks.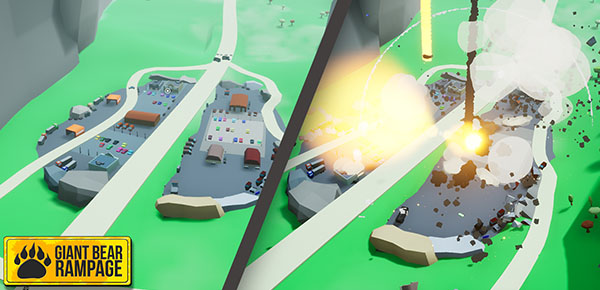 Key Features
A Giant Mutant Bear with Super Attacks and Super Powers
Swipe at and punch buildings or enemies into rubble with giant bear claws!
Destructible Environments – Destroy Buildings and Cause Property Damage to Score Points.
Super Powers – 15 Super Powers to Unlock including Meteors, Gravity Vortex, Flamethrower, Plasma Sphere, Ice Beam, Duckify and More!
Mutation Points – Explore Levels to Find and Collect Mutation Points to Unlock more Super Powers!
Waves of enemies – Survive Waves of Enemies from Rocket Launchers to Machinegun Turrets, Guys with Shotguns and even Laser Cannons.
Sandbox Mode – Sandbox Mode Allows Players to Explore and Destroy the Levels without Enemies getting in the way.
10 Large Levels to Explore – Large Levels to Explore with Various Towns and Cities.
Populated Towns and Cities – Civilians have Ragdoll Physics too!
60 Steam Achievements – Achievements to Unlock from Difficulty Levels to random Challenges etc…
Easy, Normal, Hard and Very Hard Difficulty Levels – For the challenge you want and to collect all achievements.
Low Poly Art – Featuring a Colorful Minimalist Low Poly Art Style.
Interactive Levels – Trees can be knocked down, burned and destroyed. Trees Randomly Drop Health and Energy Pickups. Boulders can be destroyed revealing hidden locations too.

Giant Bear Rampage is the premium Giant Mutant Bear Simulator of 2019! ʕ • ᴥ • ʔ
Other Information
Giant Bear Rampage will have content updates in the future and your feedback is welcome, From new super power suggestions or enemy types to include.
Please follow @GameDevMikey or @RedDragonInt Twitter Accounts for Quick Updates and Future Information about the Game.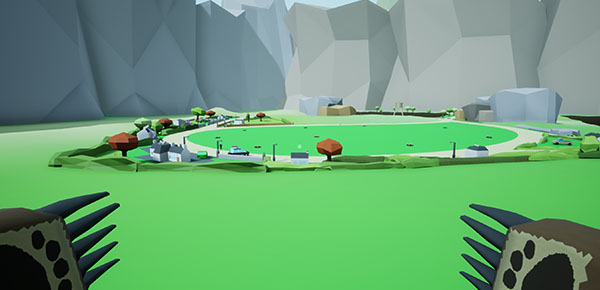 Words from the Developer
This game was developed by a one-man band and has been a passion project for years, The game was initially Greenlit via the old Steam Greenlight system in 2017 but I continued developing the game since then and now it's here, without crowdfunding or a budget, just my free time. I welcome any feedback and suggestions too, I have a lot of updates and extra content to add to the game if the future budget will allow for it. Thank you all for your support, sharing on social media and adding to your wishlist. I will be making regular updates and posts going forward. Thank you for reading.
If you have any questions please feel free to ask me in the Steam Community page / Discussions!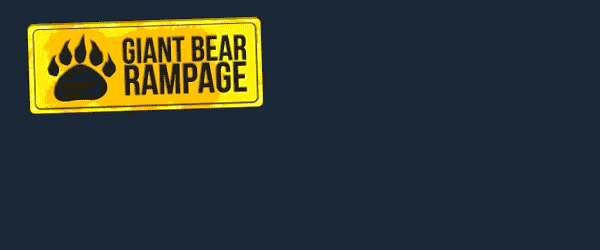 Sistem Gereksinimleri
Minimum:

İşletim Sistemi: Windows 7
İşlemci: Core i5
Bellek: 4 GB RAM
Ekran Kartı: 2GB GPU
DirectX: Sürüm 10
Depolama: 1500 MB kullanılabilir alan
Önerilen:

İşletim Sistemi: Windows 10
İşlemci: Core i5
Bellek: 8 GB RAM
Ekran Kartı: 2GB NVIDIA 940M
DirectX: Sürüm 11
Depolama: 1500 MB kullanılabilir alan
Sayfa başına git